I'm trying to listen big and help small.
Friends, it's been some time.
I hope you're able to shelter in place and, if not, I hope you're keeping yourself safe as best you can.
Many are referring to this coronavirus as a "great equalizer" because it's highly contagious and does not discriminate. In truth, it's behaving more like a great magnifying glass, illuminating the weak links in our system and the many left behind in food deserts, with no alternatives to public transportation, and no savings to weather a recession or any stretch of un/underemployment. Here at home, one in three Newark households lacks internet access, and 7,000 Newark students are just now getting access to laptops to continue education from home.
People of color are dying at disproportionately higher rates and are being profiled for wearing makeshift face masks, as the CDC recommends. Women and children globally are facing a surge in physical and sexual violence. Refugees are also being left behind. It's overwhelming to take in.
I felt a lot of hope seeing Jack Dorsey commit nearly 30% of his wealth, 1 billion dollars, to the coronavirus response and, if any remains, rerouting it to young girls' health and education initiatives. This is the single highest contribution by any individual, and he's tracking each gift publicly here.
These systemic problems existed before the pandemic began, but it's our choice if they continue after. If you're able, I hope you contribute to the institutions on the front lines and support your local economy as best you can.
For my fellow New Jerseyans, I also want to flag Governor Murphy's calls-to-serve. The state is looking for:
medical expertise, including formerly licensed practitioners. You can apply here.

technical knowledge in a range of areas including web development, data analytics, digital content strategy, and more. You can apply as a team or individual here.

personal protective equipment. You can report stockpiles or donate PPE here.
Murphy also signed an executive order moving our primary election to July 7.
---
I began sheltering in place Friday, March 13, and haven't been outside much since except to take short early morning walks in the park nearby or pick up curbside groceries. My workplace (a performing arts space, as many of you know) has canceled events through May 11, at the earliest. That last Thursday in the office is one I'll remember for the rest of my life.
Everyone looked so bewildered as the news spread. My team worked late, preparing our communications roll-out and teaching our mostly tech-challenged staff to access their desktops remotely. It was an unfortunate introduction to remote work. Until then, our telecommuting policy had been: "we don't have one."
Of course, it's a tenuous time for the entire live events industry. Still, I'm hopeful we can weather it and that this experience will give us enduring gratitude for public assembly and the unique connections it allows.
As I wrap up week four, I feel fortunate to be sheltering with my partner and pet, and to have access to an incredible network for friends. Before this, I envisioned emotional support as a one-way transaction, one person on stable ground reaching out to steady another.
Here's how I visualize it right now: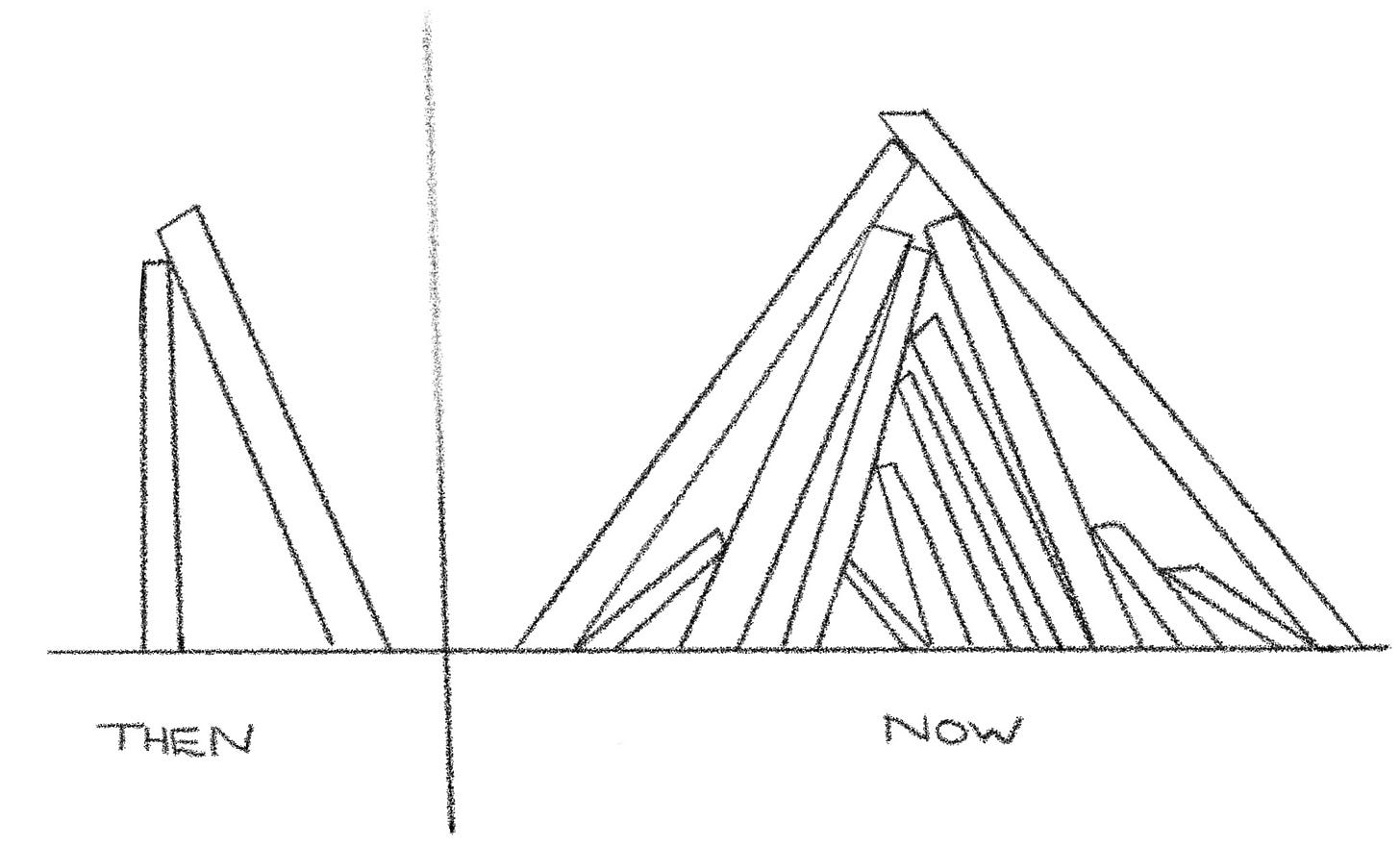 A lot of people are giving more than they can and, in turn, being supported by others who are giving more than they can. But, somehow, it's working. We're holding each other up, however chaotic the exchange is.
I'm keeping myself busy as an "envoy" in the 10th cohort of Building a Second Brain and cooling off by reliving my childhood in Animal Crossing: New Horizons. (Share a friend code if you'd like to visit!)
I'm also watching for these four signs that we're close to the finish line:
Hospitals can safely treat all patients who need it.

At least everyone with symptoms can be tested.

All confirmed cases and their contacts can be monitored.

The number of cases falls for at least 14 days.
Here's what I'll leave you with:
I'm told (by older and wiser folks) that crises like this have happened before and that humans are shockingly resilient. For now, I'm choosing to believe in that.